I've added this page to post some useful links to all the things which are discussed in the monthly meetings. Enjoy.
Links and Info from August Meeting
Pendulum dowsing –
Here is a link to the first chapter of the brilliant book  – Unlock your intuition, by Andrea Hess
http://www.empoweredsoul.com/firstchapter.pdf
And here is a link to purchase the full book from Amazon uk
https://www.amazon.co.uk/Unlock-Your-Intuition-Andrea-Hess/dp/0979637708
The following information can be found in the above book by Andrrea Hess, as well as many fantastic exercises for you to unlock your intuition.
To clear your pendulum of residual energies – (you only need to choose one of these to clear your pendulum)
Place your pendulum in a dish of sea salt (no water, just salt) and leave for a minimum of 4 hours or leave overnight.
Place your pendulum in soil overnight.  Such as in the base of a plant pot or in the garden.
Or you can wash the pendulum in running water, first hot then cold water and repeat three times.
To programme your pendulum.
Once you've cleared your pendulum you can programme it to only give responses from your higher self.
Hold the pendulum in your hand and create a surge of vital force energy.  (This is done by inhaling slowly to the count of four, hold for four and exhale to the count of eight)
Then programme by saying the following –
Divine Creator, Divine agents of creation and Archangels (x3), My Higher Self (x3), my Spirit Guides, Teachers and Angels (x3) …
In the name of Divine Truth, Light, and Love, I place the intention on this pendulum that it relay all information exclusively from my HIgher Self unless I give specific permission that it be otherwise.  Let all information align with Divine Truth and be for my Highest Good and the Good of all Beings everywhere.  I command this intention be carried out with joy now. Thank you Thank you Thank you.
You can now hold you pendulum up and test it.  Ask for a yes response – 'please indicate a yes response'  and repeat for 'No response' and make a note of which way the pendulum swings in response.
Mine is personally anticlockwise for 'no' and clockwise for 'yes'.  It really doesn't matter as long as you know which is correct for you.
A very simple exercise to start with is to ask – 'Am I fully expressing my Soul's highest path and purpose in the life area of …..relationships, friendships, business, career, health, love etc…
We'll cover more about using pendulums in subsequent meetings. But Andreas book is a wonderful starting poiunt if you feel pendulum dowsing is for you.
If you want some more information about Andrrea and wish to read more about her amazing work, click  the image below to be taken to the website where there is also some free training available.
(I personally use this Soul level healing modality in my work as an Advanced Soul Realignment® Practitioner)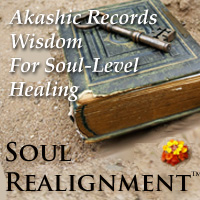 Please do contact me if there are any other subjects we covered which I have not provided links or information for and I'll add some extra info. Thank you.
Links and info from July Meeting
Here is a wonderful pdf about the body's many cries for water.  It explains how many chronic illnesses are the direct result of dehydration.
http://www.naturalscience.org/wp-content/uploads/2015/01/wfns_special-report_water_03-03_english.pdf
Here is a link to the full book on Amazon UK.
https://www.amazon.co.uk/Your-Bodys-Many-Cries-Water/dp/0970245882
Here is a little info about the Bach flower remedies.
http://www.bachcentre.com/centre/firstpag.htm
Links and info from June Meeting
Here is a link to download a copy of the handout given at the meeting. (pdf file)
The Red Tent book (fiction)
Red Tent Book avaialable from Amazon
Red Tent the Movie on DVD
Red Tent the DVD available from Amazon
Water filtration systems for the home.
Emil glass water bottles.
http://www.emil-die-flasche.de/emil-shop/
Information for the Brotherhood men's facilitator training course.
http://www.starofishtar.com/brotherhood-lodge-mens-course/